Efficiently Resolve Issues With Expert Desktop Technical Support Services
At Systems Solution Inc. (SSI), we understand the importance of reliable and efficient desktop support for your business. Our dedicated team of technical experts is here to provide comprehensive assistance and ensure that your desktop systems run smoothly, allowing you to focus on your core business objectives.
Get started with SSI's Desktop Technical Support Services today.
Don't let technical issues hinder your business productivity. Partner with SSI for top-notch desktop technical support. Ask for a consultation to discuss your requirements and learn more about how we can help streamline your desktop systems for improved efficiency and reliability.
74
+
Certified Technicians
3
locations
National coverage
Around-the-clock desktop technical support
Our team is always available to address any issues you may experience with your workspaces. We can quickly diagnose and resolve issues with minimal interruptions to your operations.
Outsourcing your desktop technical support services to SSI gives you access to experienced professionals who specialize in workspaces. Our proactive approach uses monitoring to prevent costly downtime and keeps your desktops running smoothly. Whether you have a small team or multiple locations, we have the resources to meet your demands.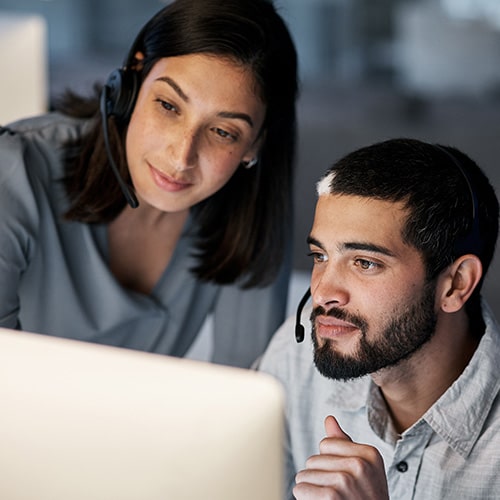 Why choose our Desktop Technical Support services?
Our desktop technical support services offer companies a variety of benefits, including:
Experienced Professionals

Our team consists of highly skilled professionals with extensive experience in desktop support. They possess the knowledge and expertise needed to handle a wide range of technical issues efficiently and effectively.

Proactive Monitoring

We employ advanced monitoring tools to keep a close eye on your desktop systems. This proactive approach helps us identify and resolve potential issues before they impact your business operations.

Comprehensive Support

Our desktop technical support services cover a broad spectrum of areas, including hardware and software troubleshooting, operating system installations and updates, virus/malware removal, data backup and recovery, and more.

24/7 Availability

Technical issues can arise at any time, which is why we offer around-the-clock support. Our team is available 24/7 to address your concerns and provide timely assistance, ensuring your business experiences minimal downtime.
Optimize your workspace

With our desktop technical support services, our clients experience optimal:
Efficiency Resolution Continuity
Efficiency
Businesses that outsource technology responsibilities, such as desktop technical support services, to managed service providers often see a huge improvement in their overall operational efficiencies. Outsourcing your desktop technical support is a cost-effective way for your business to ensure you have access to the resources needed to resolve workspace issues quickly.
With Desktop Technical Support, your company's workforce can access what they need on any device, from wherever they are, while getting the same high-quality, responsive experience every time.
Resolution
Companies that outsource their desktop technical support see enhanced employee experience by gaining 24/7 support from seasoned experts.
Desktop users will be able to get problems resolved quickly without wasting part of their day struggling to troubleshoot a problem or trying to get in touch with the right person to do the job.
Continuity
Our Desktop Technical Support Services help employees stay productive by ensuring their desktops allow them to access the information they need in an instant, no matter where they are located.
With fewer interruptions due to technical issues with their desktops, employees can get more accomplished in a day.
Your partner for IT Services and Solutions
Systems Solution, Inc. provides managed IT services and solutions for more than 250 companies in the Philadelphia area and across the U.S.
We offer Managed IT Services, Cloud Hosting, Cyber Security and more. SSI can take complete responsibility for IT or work closely with your existing IT team.
Request a proposal for Help Desk services
To request a Help Desk services proposal, simply fill out the form to provide us with some basic information about your organization and then submit the request.
One of our managed IT services experts will contact you to discuss your needs and begin gathering information for your custom proposal.
Why choose us?
At SSI, we leverage IT security and automation to help you:
We have been using SSI for the last 11 years, and they have never failed to impress. Their team blends seamlessly into ours with excellent managed IT services and IT support, helping our company to grow from 80 employees to 350 employees across 17 offices. They truly embrace the partnership and will support you in all your needs with unrivaled expertise. You are probably reading this review wondering if they can help you. Well let me just say this: call them today if you are looking for a team that knows what they are doing.
CIO, LAW FIRM
FAQs
What is desktop technical support?

Desktop technical support refers to the services provided to address and resolve issues related to desktop computers, including hardware and software troubleshooting, installations, updates, and general maintenance.
What types of desktop issues can you help with?

Our desktop technical support covers a wide range of issues, such as operating system errors, software crashes, network connectivity problems, hardware failures, virus/malware infections, data backup and recovery, and more.
How quickly can you resolve desktop issues?

We prioritize prompt issue resolution to minimize interruptions of your business operations. The resolution time can vary depending on the complexity of the problem, but our experienced team strives to resolve issues as quickly as possible.
Do you offer remote desktop support?

Yes. We provide remote desktop support services. Our technical experts can remotely access your desktop systems to diagnose and troubleshoot issues without the need for an on-site visit, saving time and minimizing interruptions.
How do I contact your support team?

You can reach our support team by calling our dedicated support hotline at 800-774-9935, option 1 or visit https://www.ssi-net.com/support. Our support team is available 24/7 to assist you with your desktop technical support needs.