Your IT Team is your Backbone. Strengthen them with SSI.
We support your internal team and infrastructure with a customized menu of cybersecurity, cloud, network, strategy, and project services.
From strategic to single-function subscription solutions, multi-location network connectivity, moves/adds/changes, and staff augmentation, we fortify your back-end systems, own mundane IT tasks, and minimize project backlogs.
Managing the complexity of IT networks, system requirements, industry regulations, cloud computing, cybersecurity, VOIP, application updates, software licenses, hardware replacements, and more, is a lot to expect from one employee. Co-Managed services is an IT model that blends the convenience and strategic framework of an internal IT team with the support and comprehensive knowledge of a managed-service provider.
Learn How SSI Delivers Managed Services
74
+
Certified Technicians
3
locations
National coverage
What is Co-Managed IT Service?
Co-managed IT is an IT management service model that allows businesses and administrators to customize which IT services to keep in-house and which to partner. It gives businesses a unique opportunity to pair the convenience and up-to-date resources of an external IT management service with their own in-house specialists to optimize efficiency. With co-managed services, you can pick and choose the resources you need and when you need them. IT co-management is an opportunity to create a partnership to supplement, enhance and support your existing IT team.
Solutions
What Managed IT Services Does SSI Offer?
Network Management
Your network components; firewalls, routers, switches, wireless controllers and access points represent a critical component of your infrastructure availability, accessibility and security. We monitor each component using an advanced toolset that allows us to monitor, manage, and back up your network equipment.
A service desk is an integral component of any IT department. SSI's service desk acts as your central point of contact for all IT issues and requests. We believe in driving the highest levels of response, satisfaction and productivity for your team, Not only do we help our end users, but we also empower them to help themselves.
Proactive Server Management
We monitor, manage, patch and maintain your server infrastructure 24/7. We work proactively to predict upcoming issues to prevent them from impacting your team.
Workstation/ Endpoint Management
Our endpoint management services are flexible while giving your team the ability to pursue more strategic goals. In addition, our solutions help manage, patch, and remediate application and OS configurations on desktops and laptops throughout their lifecycle to ensure security, control, and compliance.
Baseline Security Controls
As part of our onboarding and routinely moving forward we review security controls within your network. Each of our workstation and server plans come with Next-Gen Antivirus and Malware licensing included. For additional security services, see Cyber Security.
Consulting, Strategy & Planning
It's difficult to move forward when you are dealing with legacy systems and a backlog of IT projects. Our technology experts advise on the development of technology strategy, enterprise architecture, technology selection, acquisition, and audits – helping to drive your IT infrastructure in the right direction.
Benefits
Projects. Security. Consulting. Support.
Control IT Costs

You can scale your IT Costs according to your requirements and only pay for what you need. Whether that be increasing or decreasing staff, or IT project work.

Trusted IT advisor

Through regular account management meetings your Managed IT service company will be able to oversee your overall IT roadmap and become your trusted advisor.

Economy of scale

As your business grows, its support structure needs to grow, too. When you use a managed IT service you can scale your business up or down with nothing more than a simple discussion.

Increased efficiency

You'll have your IT needs outsourced to a team of IT experts, and during times where you need additional project support, your managed IT provider supplies the extra staff.

Small initial investment

Managed IT services help you offset the initial investment of technology costs. Rather than spending thousands of dollars on hardware and software upfront.
Why choose us?
At SSI, we leverage IT security and automation to help you:
How does Co-Managed IT work?
Many businesses need help or additional workforce from external IT management services, outsourcing IT operations entirely does not make sense for their business. That's where the co-management model comes in. When you establish a co-management approach, you:
Analyze your existing IT department's needs, skills, resources, tools and abilities.

Determine which services or resources you need to meet department or organizational goals.

Partner with a third-party organization to supplement those needed services.
Co-management looks different for each business. For example, some companies may rely on their in-house IT department for helpdesk support while depending on an external partner for large-scale strategies and security, or vice versa. It's also important to note that co-management is flexible — as your needs or resources change, so does your co-management strategy.
If so, SSI can guide you in the right direction to business success with integral IT support that your company should not be without.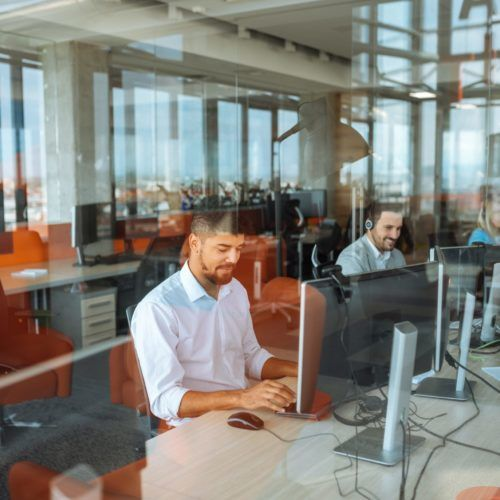 Our day-to-day tech issues as well as bigger-picture support like networking infrastructure and data security is handled by SSI.
Jim F. Bedard, Jr