Access all of your line-of- business applications, data and third-party software securely through a single, hosted desktop.
The risks of owning and applying business technologies– obsolescence, data loss, maintenance, management costs, security threats and more – have long been considered an expensive, but necessary burden companies must carry as a cost of doing business. Our solution offers an alternative that transforms your systems and data into an affordable, scalable, and always-accessible service.
Providing a new level of flexibility and mobility, our cloud hosted desktop system integrates seamlessly with your current business applications to provide a fully redundant, flexible way to work that saves you money while making your team even more efficient.
Simplify desktop deployment. Cloud Hosted Desktops provide a scalable solution that extends as your business grows and eliminates upfront capital expenditure. We remove the need for on-premise servers while providing a universal user experience across all devices and locations for working at home, in the office, or on the move.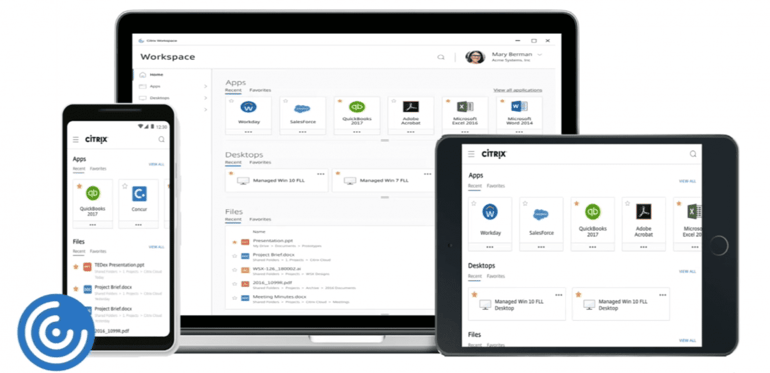 Solutions
Our hosted workspaces services include....
Any device access
To stay productive, employees need easy access to information in an instant, whether they're on a mobile device or working in offices around the world. SSI's implemented workspace enables the workforce to access what they need on any device, from wherever they are — and they get the same high-quality experience every time. Fast and responsive, every time.
Secure app delivery
User access is always secure and compliant. In today's constantly evolving threat landscape, security is a bigger challenge than ever. Protecting data and IP is top of mind — but it's not as easy as restricting people from accessing sensitive information. Workspaces let you secure data with controls based on user context, such as role, location, or device. Enjoy built-in security. With predictive analytics, machine learning, and artificial intelligence, your team can uncover potentially dangerous user behavior and proactively handle threats.
Digital Transformation
Access the desktop of your choice. SSI's implemented workspaces deliver everything people need — from app deployment and unified endpoint management to content collaboration and analytics. With it, your team can onboard new employees faster, manage hybrid infrastructure more efficiently, and remain flexible enough to quickly implement change. Moreover, you have less hardware to manage.
Tools that satisfy
Empower your users with choice and flexibility. You're tasked with delivering technology that contributes to a rich employee experience, increasing both engagement and productivity. This is about access, on-demand. Workspaces brings together everything people need to create a unified experience, providing employees with personalized feeds and automating routine tasks to eliminate worker fatigue.
Organization evolution
Every major industry is faced with consistent disruption. You need to reinvent what's possible so you can be faster, more efficient, and more flexible. Design a strategic hybrid and multi-cloud environment vital to innovation and agile operations. SSI's implemented workspaces guarantee the business agility you need. Instantly provision, or de-provision, your desktops to meet changing business and workforce needs.
Reduce IT Infrastructure
Today's business environment is structured around mobility. Hosted Workspaces enable companies to scale their business while reducing the footprint of their overall IT infrastructure. Further, you get a predictable, pay-as-you-go monthly billing. Don't resort to unsecure cloud services. Instead, by migrating to Hosted Workspaces, an organization can now focus on transformational business projects.
Benefits
Our services provide a unique range of benefits
Control IT Costs

You can scale your IT Costs according to your requirements and only pay for what you need. Whether that be increasing or decreasing staff, or IT project work.

Trusted IT advisor

Through regular account management meetings your Managed IT service company will be able to oversee your overall IT roadmap and become your trusted advisor.

Economy of scale

As your business grows, its support structure needs to grow, too. When you use a managed IT service you can scale your business up or down with nothing more than a simple discussion.

Increased efficiency

You'll have your IT needs outsourced to a team of IT experts, and during times where you need additional project support, your managed IT provider supplies the extra staff.

Small initial investment

Managed IT services help you offset the initial investment of technology costs. Rather than spending thousands of dollars on hardware and software upfront.
Why choose us?
At SSI, we leverage IT security and automation to help you:
SSI's workspaces are a complete secure digital workspace, which has empowered our company to work better anytime and anywhere.
Marjorie Rogers