Third-party

expertise

for Help Desk support
If your company is tired of dealing with IT issues that disrupt your business operations, look no further than Systems Solution Inc. (SSI). Our dedicated Outsourced Help Desk team is here to provide reliable and efficient support so you can focus on what you do best: running your business.
Get started with SSI's Outsourced Help Desk services today.
Partner with SSI for reliable and efficient Outsourced Help Desk services. Experience peace of mind knowing that your IT issues will be resolved promptly so you can focus on growing your business. To learn more, schedule a consultation.
74
+
Certified Technicians
3
locations
National coverage
Around-the-Clock Help Desk Assistance
Our team is available around the clock to address any IT issues you may encounter. We can quickly diagnose and resolve issues with minimal interruptions to your operations.
Outsourcing your help desk services to SSI can significantly reduce your IT costs. Our proactive approach helps prevent costly downtime and keeps your systems running smoothly. Whether you have a small team or multiple locations, we have the resources to meet your demands.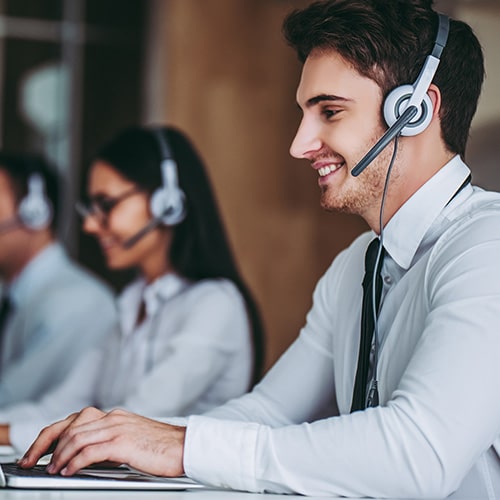 Why choose SSI as your Outsourced Help Desk provider?
Our outsourced help desk services offer companies a variety of benefits, including:
24/7 Technical Assistance

Whether

it's

a critical system failure or a simple user error,

we're

just a phone call or email away, ready to

provide

prompt

assistance

.

Experienced IT Professionals

With SSI you

benefit

from the

expertise

of our skilled IT professionals. Our team has extensive experience in managing diverse IT environments

.

Proactive Problem Solving

We

don't

just wait for problems to occur

. Instead,

we proactively

monitor

and manage your IT infrastructure to

identify

potential issues before they

negatively

i

mpact

your business.

Scalable Support

As your business grows, so do your IT needs. Our Outsourced Help Desk services can scale alongside your organization, ensuring that you

always receive the right level of support

.

Cost-Effective Solution

Instead of hiring and training an in-house team, you can

leverage

our

expertise

and infrastructure at a fraction of the cost. Our flexible pricing options ensure that you only pay for the services you need.
Central point of contact for all IT issues

We believe in driving the highest levels of:
Response Satisfaction Productivity
Response
Businesses that outsource technology responsibilities, such as Help Desk services, to managed service providers often see a huge improvement in their overall operational efficiencies. Outsourcing your help desk is a cost-effective way for your business to ensure you have access to the resources needed to resolve technical issues quickly.
With Outsourced Help Desk, tasks are completed remotely by contractors located anywhere in the world with an internet connection. This service allows your company to provide excellent customer service around the clock without sacrificing efficiency or quality performance from their employees who work remotely.
Satisfaction
Companies that outsource their Help Desk services experience better user and customer satisfaction by gaining 24/7 support from experienced experts. Not only do we help our end users, but we also empower them to help themselves.
Customers and employees will be able to get answers quickly without having to wait on hold or call back again later when no one is available on site.
Productivity
Outsourcing Help Desk services allows businesses with limited resources or time constraints to focus on other areas of their business while still ensuring customer satisfaction through effective customer support strategies.
Outsourcing your Help Desk means you'll have your IT support needs handled by a team of IT experts who act as extra staff at times when you are getting a lot of support requests.
Your
p
artner for IT Services and Solutions
Systems Solution, Inc. provides managed IT services and solutions for more than 250 companies in the Philadelphia area and across the U.S.
We offer Managed IT Services, Cloud Hosting, Cyber Security and more. SSI can take complete responsibility for IT or work closely with your existing IT team.
Request a proposal for Help Desk services
To request a Help Desk services proposal, simply fill out the form to provide us with some basic information about your organization and then submit the request.
One of our managed IT services experts will contact you to discuss your needs and begin gathering information for your custom proposal.
Why choose us?
At SSI, we leverage IT security and automation to help you:
We have been using SSI for the last 11 years, and they have never failed to impress. Their team blends seamlessly into ours with excellent managed IT services and IT support, helping our company to grow from 80 employees to 350 employees across 17 offices. They truly embrace the partnership and will support you in all your needs with unrivaled expertise. You are probably reading this review wondering if they can help you. Well let me just say this: call them today if you are looking for a team that knows what they are doing.
CIO, LAW FIRM
FAQs
What is an Outsourced Help Desk?

An Outsourced Help Desk is a service where a third-party provider, such as SSI, handles all your IT support needs remotely. We act as your dedicated IT support team, providing assistance, troubleshooting, and issue resolution for your employees or customers.
How quickly can I expect a response from your Outsourced Help Desk?

Our Outsourced Help Desk operates 24/7, and we strive to provide timely responses to all inquiries. Our goal is to acknowledge your request within a specified timeframe, typically within minutes, and resolve the issue as quickly as possible.
Can you support my specific industry or business size?

Absolutely! We have experience working with businesses across various industries and of different sizes. Our Outsourced Help Desk services are scalable and adaptable to meet the unique needs of your organization, regardless of your industry or the number of employees you have.
What types of IT issues can your Outsourced Help Desk assist with?

Our help desk team can assist with a wide range of IT issues, including hardware and software troubleshooting, network connectivity problems, email configuration, application support, password resets, and more. We aim to be your single point of contact for all IT-related concerns.
How does outsourcing my help desk benefit my business?

Outsourcing your help desk to SSI offers several benefits. Working with a third party allows you to access a team of dedicated IT experts without the need for hiring and training in-house staff. Outsourced help desk reduces your IT costs, improves response times, ensures around-the-clock support, and allows your internal team to focus on strategic initiatives while we handle the day-to-day IT support tasks.
Can you customize your Outsourced Help Desk services to fit my business needs?

Absolutely! We understand that every business is unique and we tailor our Outsourced Help Desk services to align with your specific requirements. We work closely with you to understand your IT environment, business processes, and support needs, creating a customized solution that fits your organization perfectly.
How can I get started with your Outsourced Help Desk services?

Getting started is easy. Simply reach out to us here or give us a call at 610-467-2056. We'll schedule a consultation to discuss your needs, evaluate your current IT setup, and provide you with a tailored plan for outsourced help desk support. We look forward to partnering with you!